If the RSW role and our other benefits interests you we have a report from an existing staff member detailing what a day may look like at a My Choice home;
"My shift starts at 10am on Tuesday and it finishes on Thursday morning normally around 10am, after handover then back in to work Sunday at 10am.
I arrive on shift at the home, and it is a busy morning, the new school term has started this week and the home has plans in place for each young person.
I head straight to the office to be part of the handover process. However, the team require me to support ayoung person as a priority, therefore I will spend time receiving the handover when the situation is safe.
Handover is an important part of the day, as staff from the previous shift will pass on all important information about the young people for example: appointments attended, activities the young people have taken part in, contact sessions that the team have supported, shopping with young people, young people's newly prescribed medication, general behaviour of the young people including any child protection issues, incidents, missing episodes as well as positive interactions they would have had over the last few days.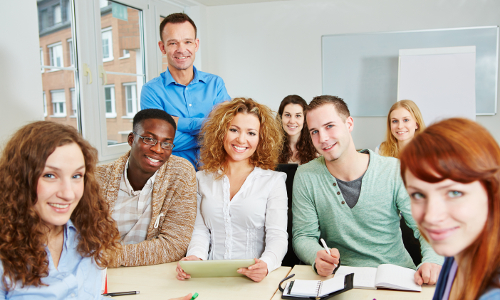 After handover you can also update yourself by reading the daily log, looking at the white planning board in the office and reading the weekly reports for each young person. All the reports are located on a data secure system called Clear Care Solutions. This will give me added information for the shift ahead, although depending on the young people's needs, I might have to read this at some stage during the morning.
I am a new member of staff so as well as my work within the home I will also have to commence my Level 3 Diploma Residential Childcare, England. I have 12 months from starting with My Choice to complete this, but I know this time will go quickly. I will form a plan with my line manager and the company Diploma Assessor to help support me to complete this course. My Choice provides a comprehensive range of training on subjects ranging from Food Hygiene, First Aid, Child Protection, CSE and CCE to and many more. I will be part of the ongoing training within my role and as my career with My Choice progresses.
After handover, some staff leave shift, and one or two new staff will take over and that is when we plan the day and allocatejobs:
Reading relevant paperwork especially if it has been updated –this could include, strategies, risk assessments and the daily reports etc
Spending 1:1 or group time with the young people at the home. (Completing key worker sessions, young person meetings and general interactions).
Cleaning the house, all domestic duties; ensuring bathrooms have toilet roll, fresh towels and toiletries. Kitchen ready for the day, empty dishwasher, ensure menu for the week is on display.
The weekly food shop generally occurs on a Tuesday so planning a shopping list with the young people needs to take place.
Cooking and preparing all meals in the home for the young people and staff team.
Recycling
Checking for repairs–ensuring the home is checked daily for damages or repairs and then reporting to the homes manager who informs the maintenance department
Checking the cars and reporting any damage there may be.
Budgeting the homes weekly finances with the Homes Manager. Taking young people to appointments (youth work appointments with Life Train or other therapeutic intervention, doctors, college interviews, etc)
Supporting with the administration of medication.
Supporting My Choice School or taking a young person to school or college and supporting at the setting.
Takinga young person to a contact visit or supporting a visit at the home.
Planning and then taking young people on activities (after school if a school day)
Supporting with all presenting behaviours and incidents as they arise, and then completing all the necessary paperwork. This is of course shared between the staff team. Updating and logging into Clear Care, where all incidents are recorded. Safeguarding the young people is paramount in all the work I do.
Attending training. I get notified a month in advancefor all training that I need to attend. This can range from Team Teach training, child protection, food hygiene, understanding adolescent behaviour, health & safety, etc.
Supervision sessions for new staff, these occur to ensure that all is well, and any issues are discussed on a 1:1 basis with a senior team member. Attend team meetings, these take place normally once a month at the home, all staff attend and take part.
I am based in one home for much of the time but do understand that I could be asked to work in any home as we are employed by the company and there is an expectation that I may be asked to work in other My Choice home on occasion. This I do not mind as it gives me the opportunity to work with other young people, build relationships with them and expand my knowledge, complimenting my training for my Level 3 course.
The role of a Senior Residential Support Worker is similar to that of the Residential Support Worker but in addition to this role, you are leading the shift and setting the tone of the day, which involves planning and coordinating the events of the day, allocating staff to duties. This could be appointments, activities such as days out or contact visits. The Senior on shift will liaise with the Deputy Care Manager and the Homes Registered Manager. A senior worker will shift lead in the other My Choice homes where required.
As well as the many training courses provided, there is also the Therapeutic Practitioners Award which is provided within our training centre. This is an accredited course and one in which all our employees will undertake.
I am keen to be promoted in time to a Senior Residential Support Worker, as I am keen to progress my career with My Choice and then maybe to become a Deputy Care Manager, as this role would require deputising for the Home Manager and something I would like to aim for. I know thereare lots of opportunities to progress via the competency framework with the company to the next position as My Choice have an ethos of what you put in you get back and will be rewarded with promotion, along with an increase in pay!
Ready to Apply? Click here for our latest vacancies.